What is Assisted Stretching?
Assisted stretching is used by physiotherapists to increase range of motion, increase flexibility and alleviate muscle tightness. This hands-on approach allows for deeper stretching of the muscles and soft tissues. This can help improve flexibility, help speed up the recovery process after workouts and help address any muscle imbalances.
While stretching is important to do before or after a workout, it's most beneficial to stretch on a daily basis. Our therapists meet 1-on-1 with their patients to perform the types of assisted stretching that will most benefit the individual and their goals.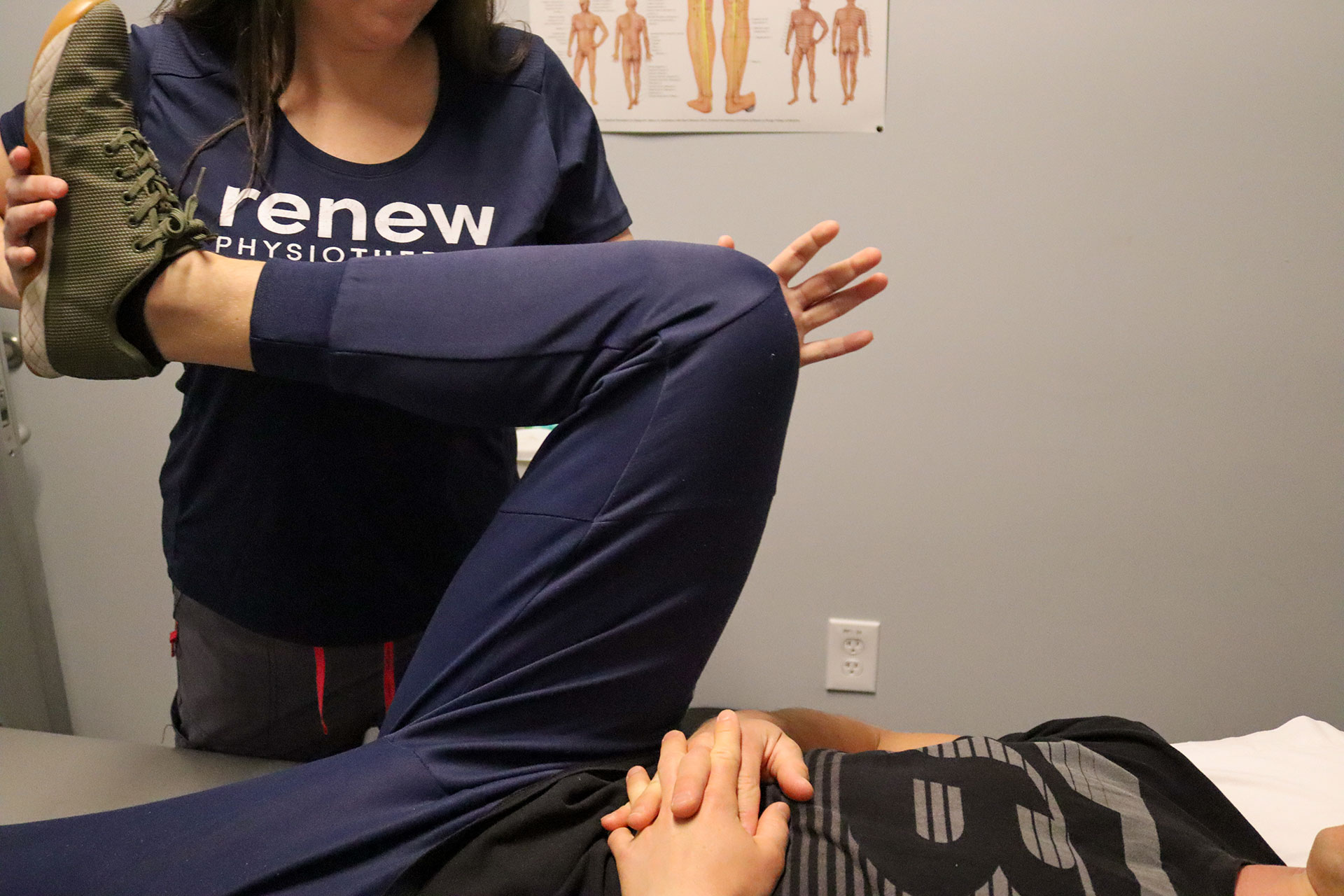 Benefits of Assisted Stretching
No matter your age, level of fitness, or lifestyle, everyone benefits from assisted stretching. This type of hands-on stretching can enhance your performance, aide recovery, improve mobility and help prevent injuries. Some of the most common benefits of assisted stretching include:
Reduce muscle pain, tension and soreness
Increase range of motion and flexibility
Improves posture and balance
Improve muscle efficiency
Increase blood flow and circulation
Reduce stress
Why should you try assisted stretching?
Our daily activities can take a toll on our bodies without us even realizing. We often spend too much time in one position—whether you sit at a desk all day or are on your feet all day. These daily activities can result in tight muscles and pain.
Assisted stretching allows you to move more freely and can take pressure off of your muscles and joints. Don't be surprised if you wake up with less pain, move through your daily activities pain-free, and feel an overall improvement in your quality of life.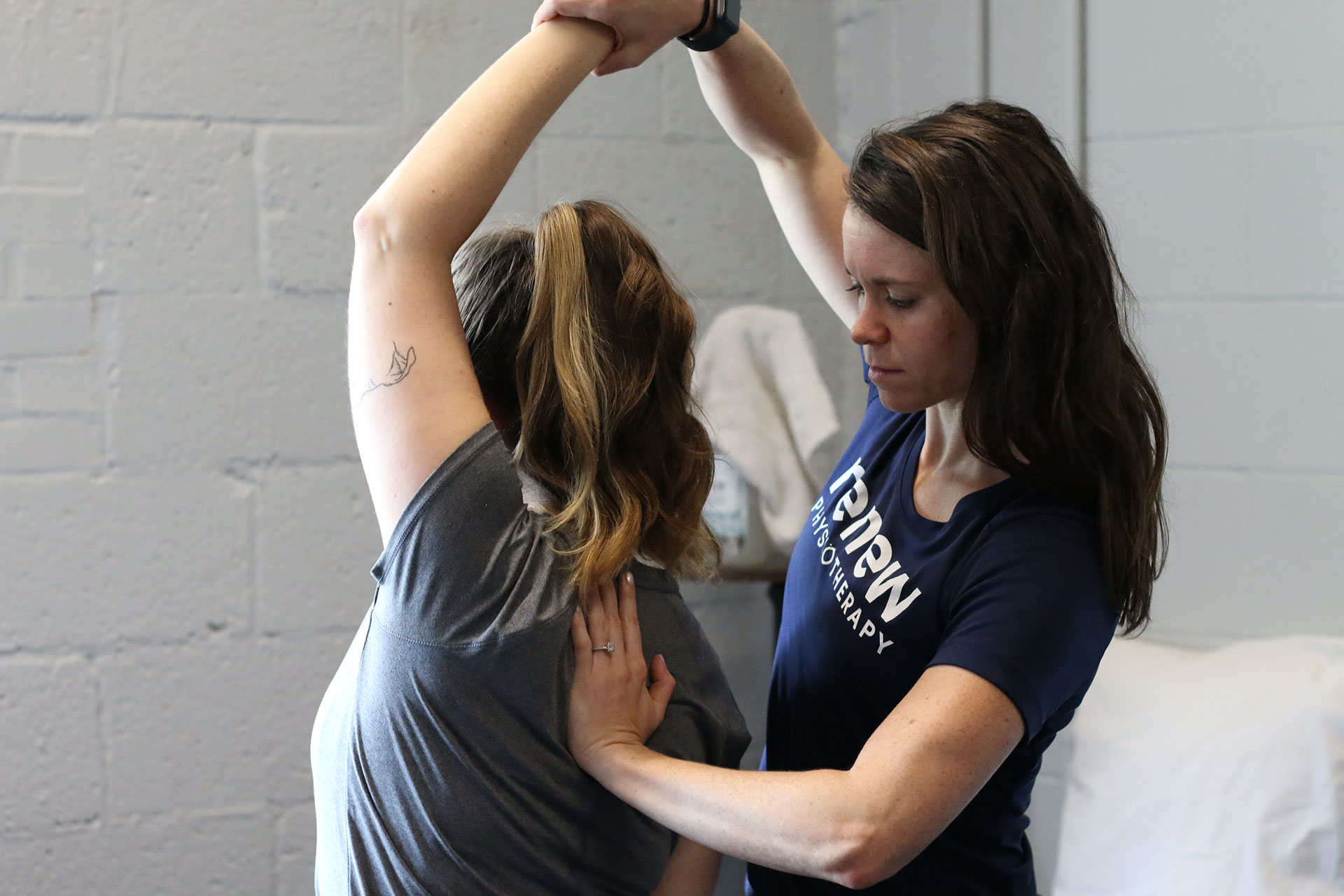 Reviews Real Results from Renew
Need more information? Frequently Asked Questions
How often should I get stretched?
As often as you'd like! Each individual will have different responses to an assisted stretching session. We recommend discussing the areas you want to focus on with your physiotherapist and they'll be able to help recommend a personalized care plan based on your goals.
What should I wear to my appointment?
It's best to wear comfortable clothes that you can move in. People typically wear workout clothes so their mobility isn't restricted during their stretch.
How long does each stretch last?
Your physiotherapist will work on a customized care plan to determine how much of your appointment is spent on assisted stretching. Whether you are looking for a full-body stretch or looking to work on a specific muscle group, your physiotherapist will work with you to find what will most benefit you and your goals.
Is assisted stretching painful?
You may experience some discomfort depending on how tight and restricted your muscles are, but assisted stretching is typically not a painful treatment.
How long does it take to see results?
Each individual will have a different response to assisted stretching. Many people notice an improvement in their overall movement and range of motion after just one session.
Is assisted stretching covered by my insurance?
Assisted stretching can be covered by your insurance, depending on the type of appointment that you book. Preventative Care and Follow Up appointments are typically covered by insurance. We are in network and accept all insurances. In addition, almost all insurances do not require a physician referral or prescription to be evaluated and treated by our licensed Physiotherapists.