Why Recovery is for you
Return to activities faster
Renew Wellness recovery services are designed to return you to your activities, faster. Whether you're training for a competition or you stand for long hours at work, our licensed physical therapists can help improve your quality of life!
Our recovery treatments and hands-on therapies help repair soft tissues such as muscles, tendons, and ligaments, improve mobility and decrease inflammation. Our goal is to help you move better, feel better and perform better.
Recovery Sessions
Recovery sessions can help address acute pains (begin suddenly and are sharp in quality), like waking up with a stiff neck, managing chronic and nagging pains, and maximizing performance before and after physical activity.
Recovery sessions may include treatments and hands-on therapies like manual stretching, cupping, IASTM, percussion therapy, electrical stimulation, foam roller instruction or dry needling. Appointments are typically 20 minutes and are not covered by insurance.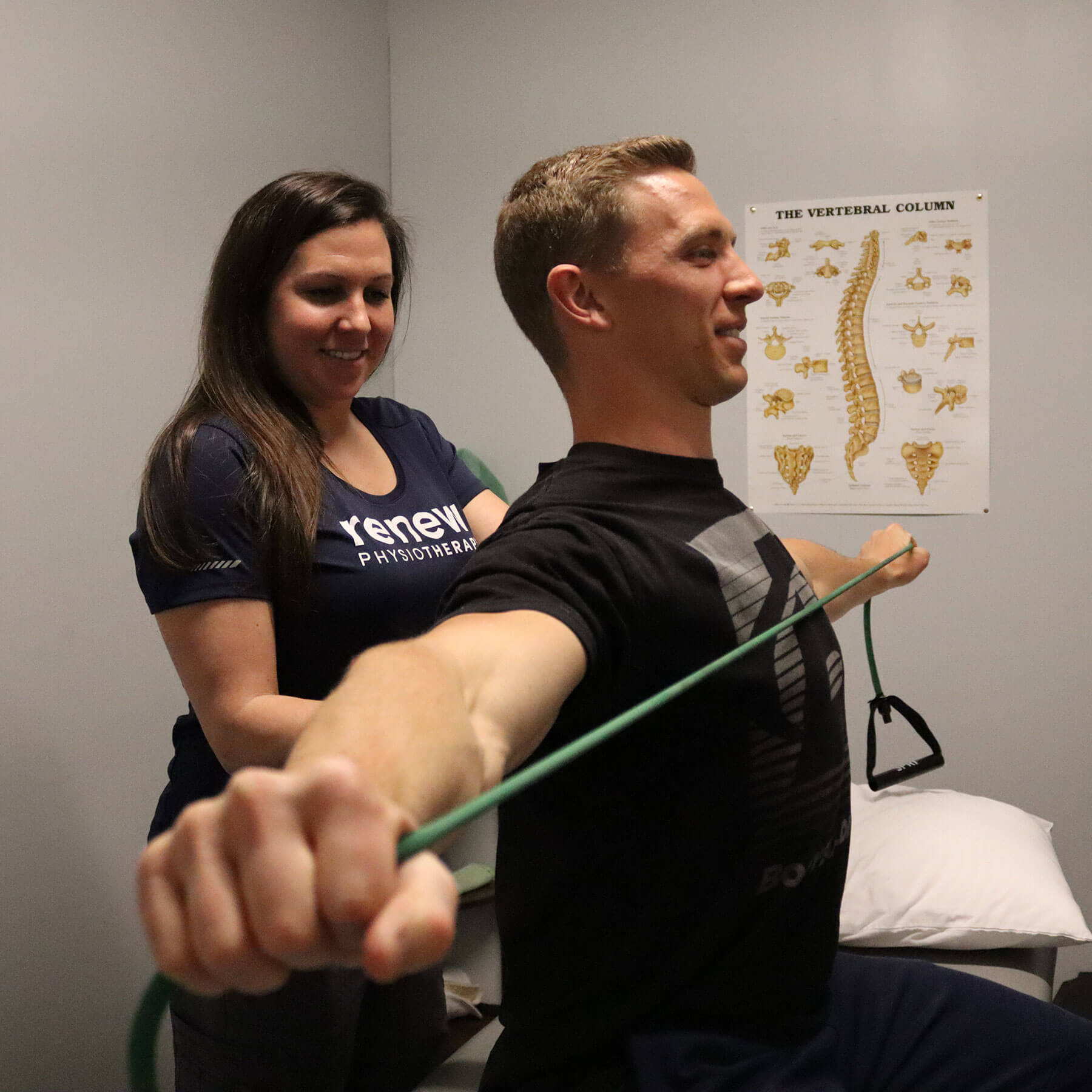 Reviews
Real Results from Renew
Frequently Asked Questions
How long is a recovery session?
Recovery sessions with our licensed physiotherapists are typically 20 minutes. Normatec compression therapy sessions are 30 minutes.
Are recovery sessions covered by insurance?
Recovery sessions and Normatec sessions are not covered by insurance plans.
Do I need to be injured to schedule a recovery session?
No, you do not need to be injured to schedule a recovery session. These recovery sessions can be extremely beneficial in helping you recover faster between workouts and physical activity so you can perform at your best.
What can I expect during a recovery session?
Recovery sessions vary depend on individuals' goals and needs. At your first visit your physical therapist will assess and create a personalized plan that works best for you.
Can I choose which recovery treatment I receive?
Yes, you are able to choose which treatment you receive during you session. Your physical therapist will discuss with you what would work best for your personal needs and ultimately the decision is yours.
Are recovery sessions painful?
While you may feel some discomfort, recovery sessions should never have you feeling excessive pain. Our physical therapists are trained to work within your pain tolerance and will customize the treatment plan to minimize discomfort while still promoting progress.
How many recovery sessions will I need?
The number of recovery sessions depends on the individual's condition, the extent of the injury or impairment, and the progress made during the sessions. The therapist will continually assess your progress and adjust the treatment plan accordingly to ensure optimal recovery.
What is the differences between a 20-minute recovery session and full 45-minute session?
A full 45-minute session entails a more compressive treatment plan that includes more hands on techniques plus exercises, other treatments, and an at-home exercises program that will help you reach your goals faster. 45-minute sessions are typically covered by insurance.